photo credit: istolethetv
WASSUPPPP,
I have some MAJOR announcements for you guys and they all concern your 2011 Muscle Building Transformation.
If you're looking to FINALLY transform your body this year and bust out of your "skinny" frame then you're going to want to read every word of this post.
So first things first....
I finally graduated college (APPLAUSE.... CHEERS.... CONFETTI). And yes I've gotten most of my graduation celebrations out of the way.
And what's so great about graduating is that NOW I have the time and FOCUS to FINALLY impact alot of lives with all the things I've learned about building muscle and gaining weight.
Once I graduated I gave myself a goal. But not just any goal... a Big Audacious Hairy Goal, which is basically a goal that seems almost a little out of reach but close enough for you to say "I can do that!.... It'll be rough.... But I can do it!"
So what's my goal?
It's simple, I want to help 100 guys get from where they are now (struggling to see results) to where they want to be (CERTIFIED BEASTS)
In other words by the end of this year I want to be responsible for:
"100 Muscle Building Transformations"
It'll definitely be a challenge but I'm going to give my ALL to see it through
So how EXACTLY am I going to do this?
I'm going to do this in stages and the first stage is almost complete.
Stage 1: Beastly Body Part Training Program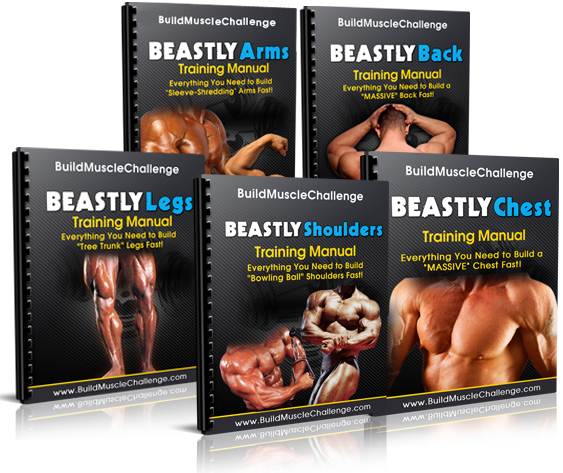 Jimmy and I are actually putting the finishing touches, on these guides and let me just say I was *SHOCKED* at how much I learned from Jimmy while we were putting these together.
These guides literally give you EVERYTHING you need to build your "BEASTLY" Body Part, it doesn't matter if you want to build up your Legs, Arms, Shoulders, Back, or Chest. These training programs will make them "BEASTLY"
When I compiled everything and put everything together even Jimmy was like "Damn, this is ALOT of tips". Why? Because I didn't want to just give you workouts and say "Go get 'em Tiger!". I wanted to give you the whole "SHA-BANG" so you can take what you learn from these guides and get INSTANT RESULTS!
So aside for the 10 Week Specially Designed Beastly Body Part Workout Plan
Here's what you'll learn from these Beastly Workout Training Programs:
3 "Golden" Rules to building a BEASTLY Body Part
What foods you NEED to consume to build your BEASTLY Body Part
What Should You Eat and When to See Maximum Gains
What Are the Best Supplements to Use While Building a Beastly Body Part
Common Mistakes to AVOID For Maximum "BEASTLY" Results
Guide to reveal what level weight lifter you "really" are
How to use the tips, tricks and secrets revealed in this program for MAXIMUM results
How to use this workout program even if you're currently on a strict workout plan
What You NEED to Know about Your Beastly Body Part
How to Track your Progress So You're CONSTANTLY Growing
.... And much more
Release Date: Friday June 10, 2011
* These Beastly Workouts will only be released to those who took action and filled out our questionairre and requested them a few weeks ago.
** These Beastly Workouts will later be re-released to those who are serious and able to demonstrate that they have everything in place to take full advantage of these programs and the life changing results that they offer. Release Date: To Be Determined
Stage 2: **The 30 Day Build Muscle Challenge**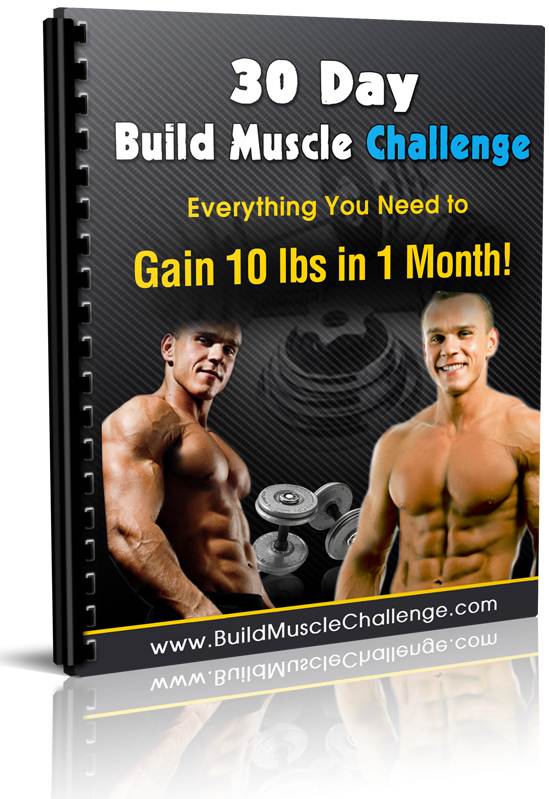 This guide will give you
EVERYTHING you need to Gain 10lbs in 1 Month
. This guide is designed for guys who are having a hard time seeing significant muscle gains in the gym.
If this sounds like you then this guide is for you.
This guide will be a GAME CHANGER when it comes to building muscle and I already know this is going to help ALOT of guys gain their first 10 lbs of significant muscle (the first step toward their Muscle Building Transformation).
How do I know? Because as I created the outline of what I want to be in this program, I sat there for a second and said "Holy CRAP, if I had this when I first started out I would've seen results like that (fingers snap)"
Release Date: SOON (VERY SOON)
Stage 3: **Project X**
[Classified]
I'll release details about this as the time approaches but rest assured anyone who wants to go from where they are now to a "CERTIFIED BEAST" is not going to want to miss "Project X"
(I'm going to be quiet now before I spill the beans about this SUPER SECRET PROJECT)
Keep a close eye on your inbox because I'm going to be releasing alot of updates and ALOT of GOODIES to you guys that you don't want to miss.... TRUST ME.
Train hard,
Rich